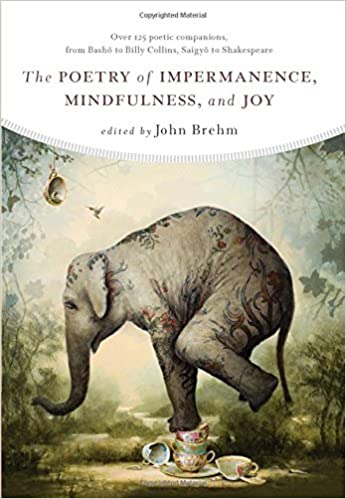 "Each time you read one of these poems, a path opens to seeing more precisely, feeling more deeply."
This beautiful collection of poems is an eclectic mix which features the work of Pablo Neruda, Walt Whitman, William Carlos Williams, Chuang-Tzu, Elizabeth Bishop, Robert Frost, and Shakespeare, among numerous others. Every poem is a poignant reminder that life has a deeper meaning, but it also reminds us that life is transient. A truly wonderful anthology which is perfect for dipping into.
My particular favourite is the poem 'Old Geezer' by A. R. Ammons:
The quickest
way
to change
the
world is
to
like it
the
way it
is.
HIGHLIGHTS
Along with the poems, there is a chapter on mindful reading which is a beautifully written reminder to ponder the meaning of a text. Here, Brehm reminds us to "…understand the poem through the senses" and "…just linger with those poems or passages that resonate with you."
There is also a short biography of each poet, useful if you want to learn more about an individual poet and their work.
In low times, I try to always remember this poem by William Stafford:
It's All Right

Someone you trusted has treated you bad.
Someone has used you to vent their ill temper.
Did you expect anything different?
Your work—better than some others'—has languished,
neglected. Or a job you tried was too hard,
and you failed. Maybe weather or bad luck
spoiled what you did. That grudge, held against you
for years after you patched up, has flared,
and you've lost a friend for a time. Things
at home aren't so good; on the job your spirits
have sunk. But just when the worst bears down
you find a pretty bubble in your soup at noon,
and outside at work a bird says, "Hi!"
Slowly the sun creeps along the floor;
it is coming your way. It touches your shoe.